WILD
A new play by Crystal Skillman Directed by Evan F. Caccioppoli
June 14 — July 1, 2012
at Angel Island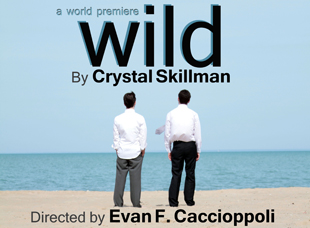 A world premiere
Peter and Bobby graduated from Northwestern together, live together, work together, sleep together. But when one of them cheats with a woman – Nikki – they dive into in a world of wild sexual affairs that threaten what they once had. But through Nikki will they find a different kind of love? Set on a beach on Lake Michigan, WILD is a savagely funny Chicago story of desperate love that asks: can we ever truly know the form love takes and how far will we go to fight to hold onto it when we do?
Featuring
Julia Daubert*, Jude Hansen, Justin Harner, Evan Linder, Michael Manocchio, and Adam Schulmerich.
Creative Team
Production Stage Manager: Dina Marie Klahn*
Set Designer: Dustin Pettegrew
Lighting Designer: Fred Uebele
Costume Designer: Katherine Meister
Sound Designer: Zan Rosenthal
Props: Paige Reilly
Dialect Coach: Rachel Rizzuto
Casting Director: Claire Tuft
Photography by Sophia Nahli Allison
Graphic Designer: J. Stephen Brantley
(*Artistic Associate, Kid Brooklyn Productions)
WILD Cast Photos
Production Photos
Wild was originally written as a ten-minute scene for Primary Stages' Einhorn School of Performing Arts Site-Specific Directing Class (Daniel Talbott, Instructor). Kid Brooklyn Productions commissioned a full length play based on that ten-minute scene. WILD has been developed in private readings and workshops with the help of a talented group of actors.
WILD was read as part of MCC's PlayLab series of readings at The Lucille Lortel Theatre on Monday, April 23, 2012. Directed by Evan F. Caccioppoli, the cast featured Hunter Canning, Jimmy Davis, Clayton Fox, Joshua Levine, Nathan Charles Miller, and Diana Stahl.
About
Playwright — Crystal Skillman
Crystal Skillman is a Brooklyn based playwright. Her play CUT, produced by The Management in Spring 2011 earned a critic's pick in a rave from the New York Times which noted: "A playwright of growing downtown renown, Ms. Skillman seems to be acquiring something suspiciously Midtown: polish." CUT will be published by Sam French this fall and is scheduled to open in Boston this spring. Recent productions also include: THE VIGIL or THE GUIDED CRADLE (Impetuous Theater Group/Theater; 2010 New York Innovative Theatre Award for Outstanding Full-Length Script); NOBODY & BIRTHDAY (Rising Phoenix Rep in NYC, Side Project in CH, U.K Premiere in 2010 with Kibbo Productions at Waterloo East, Camden Fringe 2011); ACTION PHILOSOPHERS! (Stage adaptation from the graphic novel premiered Comic Book Theater Festival Summer 2011).
Upcoming plays include: SEX AND DEATH IN LONDON with director Michael Padden (Rising Phoenix Rep's Cino Night Series, February 12th 2012 at Jimmy's No. 43); ANOTHER KIND OF LOVE (Overturn Theatre Ensemble Residency at IRT March 26 and 27th); 4 EDGES (TerraNOVA Collective's Groundbreakers Presentation Spring 2012); WILD (Debuting in Chicago with Kid Brooklyn Productions June 14th – July 1st 2012 under the direction of Evan Caccippoli); THE SLEEPING WORLD (Upcoming Member's Workshop this fall at Ensemble Studio Theater directed by Daniel Talbott) and her new play commission for Vampire Cowboys, GEEK, will premiere in Spring 2013 in NYC. Crystal was recently named one of Manhattan "Best Ofs" for OurTownNY magazine, and was selected as one of nytheatre.com's fifteen People of the Year for 2011. She is represented by Joseph Rosswog at The Gersh Agency and is a member of the MCC Theater Playwrights' Coalition, Rising Phoenix Rep, as well as an alumni member of the Women's Project and Soho Rep lab. Learn more here.
Press
WILD in the News
Reviews
Interviews
Theater in The Now: